Join Our Facebook Community: Celebrating Our Pets with Sue London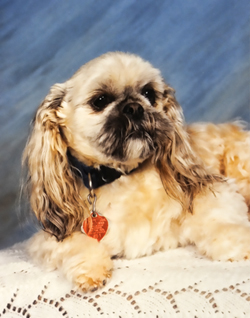 Rocky
You gave me courage & strength. You got me through disease, divorce, near death, & life and death pregnancy. I love you, my friend!
– Sue London
Maddie
Maddie provided me with her unconditional love, allowed me to get around like- minded pet people and distracted me from missing my children during my separation / divorce of my practice wife.
– Ross London
Molly
You continue to shine your light within my heart! I hear your guidance every day.
– Sue London
Spot
You gave me unconditional love. eased my pain and filled that void of loneliness. Being an only child, you were the sibling I never had.
You tried to teach me it was not right to marry a non-animal lover. Thank you for helping me choose Mr. Right!
– Sue London
Willy
You were my side kick at book signings, speaking events, TV appearances and during pet therapy at children's hospital and nursing homes. Within hours of your crossing over, you came back to remind me it was my time to shine, and you continuously support and encourage me. I promise to shine the light for both of us!
– Sue London
Daisy
Daisy was absolutely the best friend in my life. She was larger than life and so filled with life. I miss you every day. Thank you for being in my life.
– Brenda Pearce
Former Clients & Friends of Sue London!
This page pays tribute to Sue London's clients and friends.
Please complete the form below to have your pet's photo and details appear.
If you are not a client Sue has a special community to share your photos and stories!
Sue London, The Hospice Pet Doula, & Animal Communicator invites you to her safe, supportive, loving environment to pay tribute and celebrate your pet(s) that are alive and who have crossed over.
Join Celebrate Our Pets With Sue London. Share your stories and photos.
This Facebook community is https://www.facebook.com/CelebratingOurPetsWithSueLondon