The Animal Communicator
Discover Your Pet's Thoughts, Emotions, & the Messages They're Trying to Bring You
What I Do
Having survived two near death experiences that gave her direct witness to the
"other side," Sue London, The Animal Communicator has served as a bridge between the two worlds which help bring peace and even healing.
---
About Sue London, The Animal Communicator
As I hovered weightless over the body known as Sue London, lying lifeless on the operating table, I calmly watched the doctors panic as they were trying to revive me.
They did revive me, along with a power that had been dormant for over a decade. Weirdly, I was OK with dying. I felt an overwhelming sense of peace and love that was missing in my actual life which had been filled with loneliness, abuse and ill-health. Apparently however, Heaven, Grandpa Buck and Jesus weren't OK with it (more on that below).
Growing up a lonely, only child, my pets became my world. I had a vivid imagination which enabled deep conversations with my pets and animals all around me. My parents thought it was a phase and I thought everyone could hear their thoughts and feelings the same way I could. They couldn't.
As I floated in the white foggy mist, two shapes formed into people – my Grandpa Buck and Jesus. Grandpa Buck told me it was not my time to join them and that I had to go back. He said, "You have millions of people and animals that need your help to cope, heal and move forward."
I questioned what someone in my condition could do to make that happen, but when I saw Jesus nod his head in agreement, I figured I shouldn't argue.
My eyes opened. I was in the hospital bed. And I wasn't just revived, I was born again. Old thoughts were replaced by new questions. I was filled with gratitude for another chance and wonder at experiencing the other side.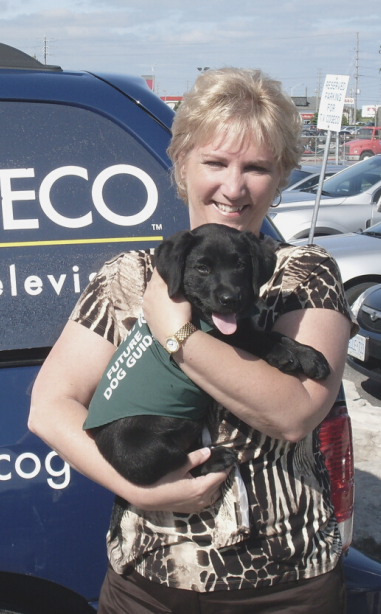 The Animal Communicator
Discover Your Pet's Thoughts, Emotions, & the Messages They're Trying to Bring You
…my antenna has been finely tuned to pick up the most amazing messages from both people and animals… but most strongly from animals and pets that have strong bonds with humans.
I can proudly say that I have helped thousands of people more deeply connect with their own true self and with that of their animals, both living and crossed over.
The messages I've been able to channel through the hearts and souls of pets have helped to heal relationships, provide closure, peace and understanding that might never have been possible without this empathic bridge.
I don't know how long it will be before I'm reunited with Grandpa Buck, Jesus and all the animals and people I have loved and cared for, but I know that when I return, I'm staying there satisfied that I spent every extra day on Earth trying to help people find peace, love and joy through better communication with the most important people and pets in their lives.
Recognition
Received the COMPETENT COMMUNICATOR
AWARD from Toastmasters International
Awarded the BUSINESS MASTERY AWARD 2007 by John Assaraf, star of the major motion picture/and book, THE SECRET.
Sue was featured on Cable television on the Pet Network. The segment was such a success Sue was brought back to do 3 more segments.
Executive Producer and Radio Host for The Empowerment Channel
Nominated for HALTON WOMAN OF THE YEAR 2004
Interviewed on 10,000+ international radio and TV shows. 1000+ magazines around the world.
Host of Get Inspired Radio show on WBLQ AM Radio & Transformation Talk Radio
Inspired thousands of people through her
Motivational Presentations
Sue's greatest gift was received on her 40th birthday from a little boy who shared, as a result of Sue sharing her book, "Rocky's Positive Thoughts Coloring Book", doing pet therapy, Reiki, and visualization with him, his cancer had gone into remission. She continuously receives letters of gratitude from fans around the world. "Things have certainly happened in my life for a reason. We all have the choice which path to take. God blessed me with a second chance in my life and I plan to make the very best of each day. I am extremely grateful for every experience in my life for it made me who I am today."
Testimonials
I absolutely loved taking the Reiki for Pets Level 1 and Level 2 courses with Sue London! She is extremely talented, insightful, and of course passionate about healing pets. Her work and experiences are truly inspirational. She taught me that animals are sensitive to the energy of their surroundings, so it is easy for them to feel the benefits of this practice. Reiki balances animals' energy patterns and strengthens their natural healing systems. I highly recommend Sue's courses to anyone interested in learning how to do Reiki. Even after completing the courses, Sue continues to be an amazing coach and mentor. I am grateful that I found Sue to teach me how I can assist in the process of healing pets!
Carolyn Carfora
Oh my gosh. Have you ever wondered what your fur baby is thinking, or what they want you to know? My friend Sue London does pet readings for our furry friends both here and on the other side. You send a photo to her, and she connects with them. She starts to sketch them and the readings come through. The validations and insights you receive are off the charts. When she did Daisy's reading (she is still here with me), Sue told me that she had a lot to say, and kept her up very late in the night! Lol. …..

A few weeks later I received this email from Brenda…"BTW, Daisy's right eye is closing up and her left eye is the larger eye, just as she had you draw it. So, as she nears the end, she showed you that as, a clue as to how I will know it is nearly time.

Brenda Pearce, Author, TV show Producer/Host, Show Host of Empowered Living On the Dream Visions 7 Media Network
Sue, thank you very much for the messages from our cat, Quizmo, and helping me understand why he was behaving like he was. I had no idea my daughter was going through abuse. I did have a talk with her, she opened up, and now she has left her boyfriend. Now that she and Quizmo are out of that environment, both my daughter and her cat are doing so much better. Thanks again, Sue.
B. P.
Thanks again Sue for helping me with our new dog, Barney. As you know we had just brought him home from the shelter and wanted to know more about his past. Thanks, you for the suggestions and direction. Each day is getting easier for him. He really does love when I give him a job also, just like you suggested.

E.W.
Oh my gosh, Sue, you have really captured my dog, Maddie, and his messages are very true. Thanks for reconnecting me to my best friend. What a wonderful gift.

R.L.
Thank you, Sue, for sharing your gift. I will treasure my drawing of my boy. Your messages were so true. I feel good knowing he is okay and happy in heaven.

C.W.
I had chills when I opened my package with Emma's drawing in it. Her drawing is exactly what she looked like. And the messages spot on.

P.M.
I love, love, love the drawing of little Cosmo and the message he gave to Sue London for me to enjoy. I laughed out loud when I first read it. It is so right on the money.

Cosmo is a little character, and his personality was captured in the drawing and in his communication! Thank you so much for this precious gift.
Janet Nestor, Author, Mental Health Therapist, and Diplomat in Energy Psychology
Sue London has an amazing gift that I got to witness first hand. Her pet portrait and message from my deceased pet was beautiful, poignant and inspiring. She is an amazing person with a gift that can help the hearts of pet owners everywhere.

Brad Costanzo, Business Coach, The Canfield Training Group
"When we heard of Bentley's cancer diagnosis 2 years ago and hearing he only had 2 to 3 months to live, we were devastated. But here he is living his best life and the Dr's telling us he's a miracle boy.
When I brought the anxiously awaited package from Sue into the house, Bentley was all excited and had to smell it up and down, and almost like he said, Ok, here it is momma…. Here's my gift to you.
Sue did say she normally only draws faces however; Bentley Boy decided she should draw all of him. His front right (left looking at the pic) is the arm he has bone cancer in, and he's a little off centre most days and he physically sits this way as his body has adjusted…. the way his eyes are looking at us, is exactly him looking into your soul…. his message to me was to live in the moment with him, and to stop anticipating the future. He said the blue butterfly will be my sign that he's still with me….. The message was so true to Bentley and something comforting for me to hear. In these past couple years of COVID-19 – I'm not sure if I'm here for Bentley or more likely Bentley Boy has been here for me. Thank you Sue for this amazing gift. xo "
Judy Martel
My little 17 year old dog India has cataracts that rendered her almost completely blind. The vet told us a couple of years ago that India could only see shadows and she would eventually be completely blind. This was devastating news as India's greatest joy was chasing balls endlessly. All of that came to a halt as she became inactive due to her vision loss. Even going for walks has been difficult as she gets startled by sun and shade, and stumbles and falls.

I am beyond grateful for meeting Sue London!! Sue's healing has miraculously restored some of India's vision. Just yesterday after seeing Sue, India confidently walked through the crowd on a sunny day without stuttering her steps and could see where she was going. Today India actually chased a ball I tossed across the floor. She saw the ball for the first time in years! I'm beyond grateful for Sue's healing abilities for my little girl.

Thank you Sue. India and I will continue this healing journey with you. So much gratitude for you!! Thank you so much for giving of yourself Sue.
Tina & India
I've had two previous sessions with "animal communicators" that were zero on a 10-point scale and was very disappointed. Recently, I was talking with a friend in Arizona who told me about Sue and how pleased she was with her session. Excited, I was on the computer that night and scheduled a reading with Sue – surprisingly, for the next day. I only booked a half hour, though, because I was still a little skeptical. Well, thank goodness she had the time as we were able to go much longer – booking another half-hour. She was on a roll; I didn't want to stop!

I couldn't have anticipated how much I learned – not only about Nikki, my parrot, but myself, as well – both individually and as a team, together. I thought it was just going to be a phone session but, fortunately it was over Zoom – so I was able to easily record the session with a little digital recorder. That was fortunate because there was just so much information and am anxious to listen to it again.

A few days before, I had cancelled a session I had made with a psychic reader. I knew "why" after the session with Sue – she gave me exactly what I needed. She's a remarkable lady! I'm sure you'll get what you need to hear. On a 10-point scale, she's an eleven!
Andrew Rogers
Sue London is the best animal communicator. Her messages from my recently departed beloved companion Bodhi, were filled with truthful experiences that he and I experienced and no one else knew of. Sue captured my dog's essence and spirit in his continuing messages of love from the other side. Sue shared his kindness, wisdom and care which she combined with her "how to" teachings.

Our next session was with my beautiful parakeets Uriel and Raphael who are my fun and adventure teachers. Sue clearly communicated their past – which I later validated with their previous owner. She also shared the ways that I can enrich their lives.

I am grateful for her ability to share her gifts and have since referred others who benefitted from her loving wisdom.
Elizabeth Enright